I need a break from all the snow, so what better time to dig up some photos from last Autumn that I never got around to uploading.

In November I went down to the Southernmost tip of Chiba peninsula to help out with a bird monitoring survey.
I arrived a few hours earlier than the others so I could take some seascapes. I had never been to that part of the coast so didn't know what to expect but it turned out to be a good little location, and the sunrise wasn't too bad either.
Cape Nojima, Chiba.
When I first arrived here it was pitch dark, and I found my way out to the shore with a headlamp. It wasn't until it started getting light that I was able to see these rocks in the water. They hadn't shown up on Google maps, so I was quite happy when they came into sight.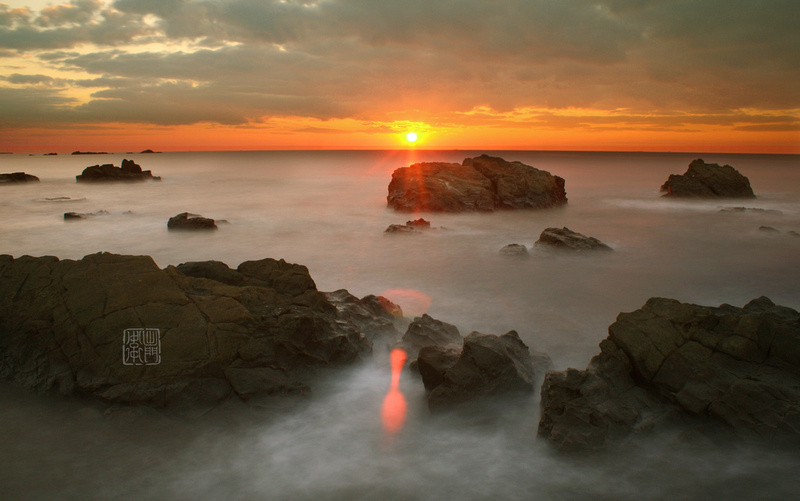 I used a dark filter for this one, allowing a long shutter speed to really blur the water.
Before sunrise, I actually thought it was going to be cloudy. Then suddenly the sun popped up on the horizon.
I took this one with a telephoto lense when the sun first came up above the horizon (300mm).
There's a seagull in there if you look carefully. That was the first bird I wrote down for the day!
Which one do you like? I like the top one now that I've had a few months to think about it.
いつも見てくれてありがとう!
ブログランキングもやっています↓
Thanks for visiting my blog. Please help me out by voting, just click this button:

Follow me on Facebook:
http://www.facebook.com/DamonBayPhotography
フェイスブックで「いいね!」をしたら、新しくアップする写真や記事を見れるよ!