私の写真集が発売されました!    

Book Cover Final
←クリックしてね




今日は嬉しいお知らせがあります。
私の写真たちがまた本になりました!
今月発売された、だからこそ@神戸さんのすばらしい詩集『がんばるな』に
私の写真たちをご採用いただいています。
心あたたまる素敵な詩が際立つようお手伝いができて、とてもうれしいです。
すべての詩から、だからこそ@神戸さんのあたたかな人柄が伝わってくる素敵な詩集です。
詳しくはまた後日、ご紹介させていただきますね。
いつも応援していただき、本当にありがとうございます。
Hi everyone. I have some BIG NEWS to announce.
My photos are being published as another book!
You may have guessed that I was busy over the summer, well there was a reason. About the same time as my book release in June, I was approached by a different publisher about using my photos as backdrops for a book of poems. I agreed and spent my summer holiday working on it and this month it is being published.
The book is a collection of poems by a Japanese man who started writing poems for the people of Tohoku on the evening of the disasters. Over the last four years he has continued writing and tweeting his messages of support and now the best ones have been put together as a full colour book with my photos as backgrounds. The book is called "Ganbaru na", which means "Don't try so hard" :)
I'll let you know some more about it over the next few weeks and try to translate a few of the poems into English, but today I just want to say a massive THANK YOU everyone for following me and reading my blogs.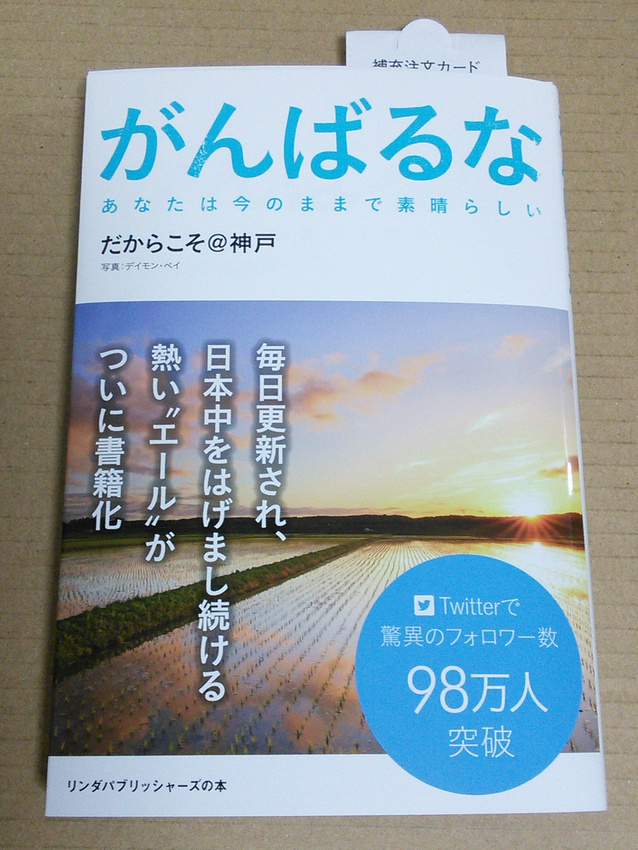 Thank you for reading my blog and viewing my photos.
Your support motivates me to keep sharing my photos.
My blog is registered to a ranking website, clicking this vote button regularly gives me votes and helps me get noticed. Please give it a click each time you come here. Arigatou!
人気ブログランキングに参加しています。
1日1回上記↑の『ブログランキング』ボタンを押していただけると、ランキングにポイントが入ります。
みなさまの応援がブログ更新の励みになっています。
いつも応援ありがとうございます。

Thanks and Enjoy!

Follow me on Facebook:
http://www.facebook.com/DamonBayPhotography
フェイスブックで「いいね!」をすると、新しくアップする写真や記事を見れます!