この度、千葉市民ギャラリー・いなげにて毎年行われている 『 創造海岸いなげ展 』 に出展することになりました。
作品は鳥取の手漉き和紙に、フォト軸を印刷したもので
鳥取と千葉の美しい里山や自然の風景をそれぞれ12枚、合計24枚展示します。
鳥取の作品は、昨年の夏にAIRで作成したもので、鳥取県内各所にて展示いただいたものです。
千葉の作品は、今までにわたしが撮りためたフォト軸の中で、特に気に入っているものとなります。
手漉き和紙に印刷していただいたフォト軸はちょうど掛け軸くらいのサイズで、とても見ごたえのある美しい作品となりました。
開催期間中、お近くにお越しになることがありましたら、お立ち寄りください。
いつも応援していただき、本当にありがとうございます。
会期 : 平成29年8月8日(火)~20日(日) 
会場 : 千葉市民ギャラリー・いなげ 2F展示室
観覧時間 : 9:00~17:15  ※初日12:00~、最終日~15:00
観覧料 : 無料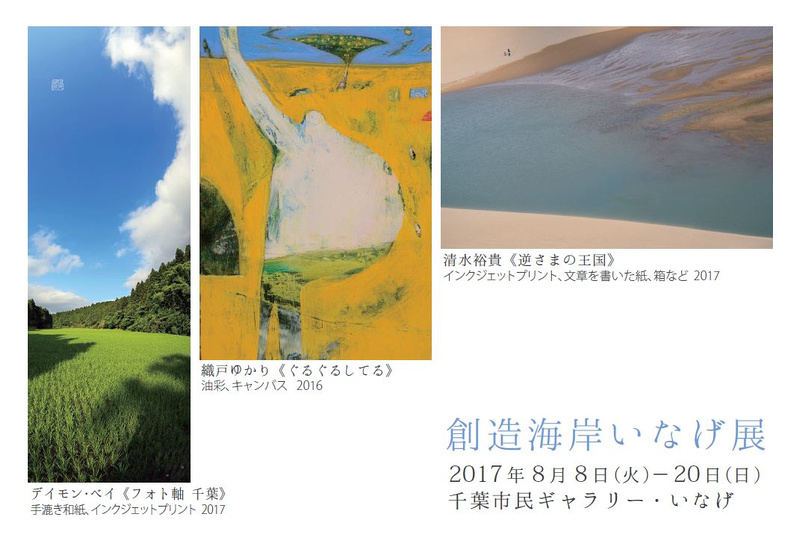 I'm having a big exhibition this summer here in Chiba.
Joining two other Chiba based artists for a 2 week annual art exhibition from August 8th -20th, my exhibition will be a mix of photo scrolls from both Chiba and Tottori. I will show 24 pieces, 12 of which are new.
You may remember I did an Artist In Residency last summer in Tottori, where I created a set of 12 photojiku (hanging scrolls) on specially produced Japanese washi paper. For this exhibition I have created 12 new scrolls, this time featuring my favourite local Chiba landscapes, also printed on washi paper from Tottori.
I have been working hard for this exhibition since February, so I can't wait for it to start. The scrolls are 1.4 metres high, so they should have quite an impact. Hopefully my artwork will encourage more people to fall in love with the Japanese countryside and spend more time in the outdoors.
Entrance is free. August 8-20th. Chiba City Citizens Gallery Inage. 9am - 5:15pm.
Thanks for supporting me over the past few years everyone!

Thank you for reading my blog and viewing my photos.
Your support motivates me to keep sharing my photos.
My blog is registered to a ranking website, clicking this vote button regularly gives me votes and helps me get noticed. Please give it a click each time you come here. Arigatou!
人気ブログランキングに参加しています。
1日1回上記↑の『ブログランキング』ボタンを押していただけると、ランキングにポイントが入ります。
みなさまの応援がブログ更新の励みになっています。
いつも応援ありがとうございます。

Thanks and Enjoy!

Follow me on Facebook:
http://www.facebook.com/DamonBayPhotography
フェイスブックで「いいね!」をすると、新しくアップする写真や記事を見れます!