私の写真集が発売されました!    

Book Cover Final
←クリックしてね
今回の企画展でいくつかの新しいアイデアに挑戦してみました。そのひとつである、特大フォト軸2枚は展示作品の中でも評判がよいそうです。こちらは長さ3.5メートルの和紙一枚の作品となっています。これを作るのにはちょっと大変でした。普通の和紙はそんなに大きくないし、普通の印刷会社さんは高い機械に和紙を入れたくないらしいのです。でも、あおや和紙の職人さんたちも、鳥取の印刷技術者さんもチャレンジャーですので、みなさまのおかげで私のビジョンを実現していただくことができました。完成したフォト軸はとても大きくて、普段の作業スペースでは広げられなくて、寝室の家具を動かして展示のための作業をしました!
完成までは大変でしたが、展示されているのを見て挑戦してみてよかったと思いました。本当に大きくて、細かいところまでとても綺麗に印刷されています。滝の特大フォト軸を実際に見ると写真とその場にいるような気持ちになります。手前の白い水の部分は和紙の繊維と良くマッチしていて、紙よりも羊毛のような雰囲気にも見えます。今回、一緒に企画展をやっている水本さんも2枚の特大作品を作成していますが、水本さんの作品は2メートル四方の四角い作品となっていて、こちらもとても美しく完成されています。
今日は私達の特大作品の写真と、作成中の様子をいくつかご紹介します。
For this exhibition I tried some new ideas, including these two giant photo scrolls which I have been getting lots of positive feedback about. They are three and a half metres long and like the rest of my works, are printed on Japanese Washi paper. It was a real mission getting these made. Most washi paper is only a meter square, and most printing companies don't want to put washi paper in their expensive printers, let alone 3 and a half metres of the stuff. The washi crasftmen and my printer in Tottori have are an ambitious bunch of people though and they made my vision into reality. A few weeks before the exhibition opening, I really thought it was all going to be a disaster. The finished scrolls were too big to spread out on my normal working space (living room floor), I had to move furniture out of our bedroom to attach the bamboo poles to them!
But now that they are hanging up in the gallery, I am really glad I decided to make them. They are huge and the fine detail on them is incredible. Standing in front of the waterfall scroll you forget that you are looking at a photograph. The rushing white water at the bottom blends into the grain of the washi paper, which is more like wool than paper.
Mizumoto san, the other photographer I am doing the exhibition with, has also created 2 big works. His are 2 metres square and they look amazing. Here are some photos of the two of us in front of our works, and some photos of me getting them ready for the exhibition.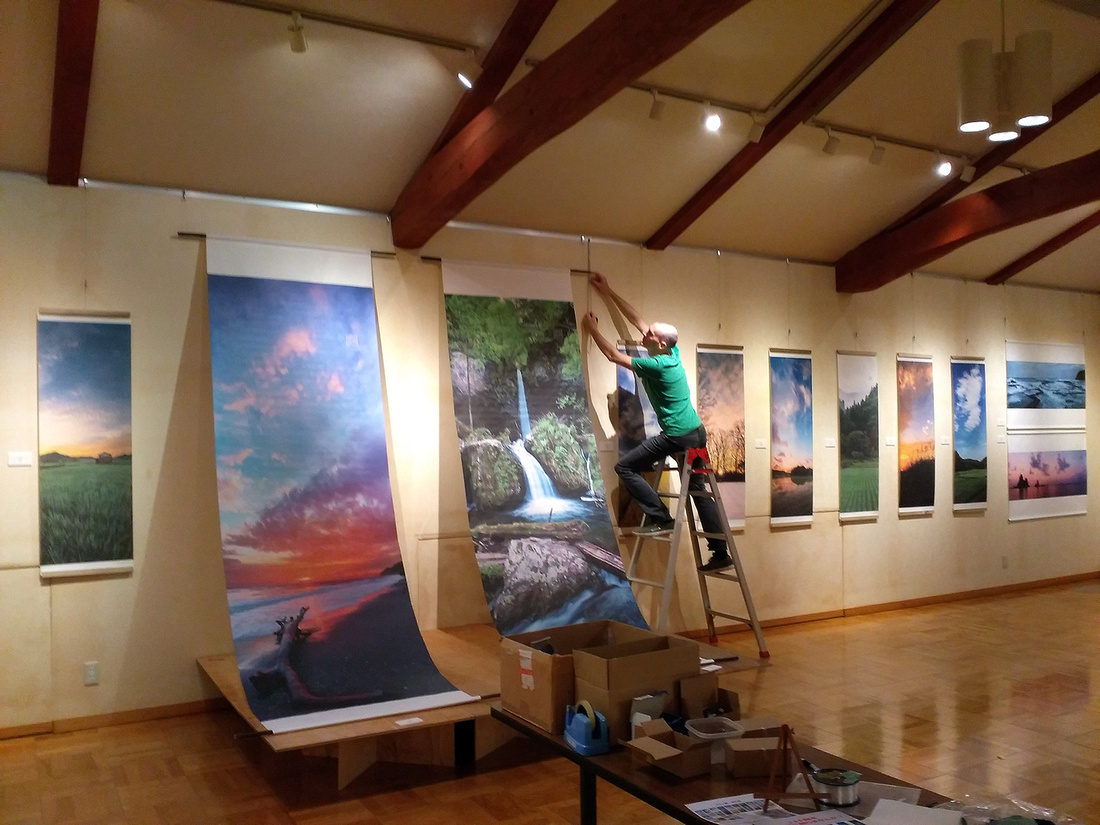 平成30年4月21日(土)~6月24日(日)
観覧時間 9:00~17:00
会場 企画展示室
料金 一般 300円/小・中・高校生 150円 ※20名以上は20%割引
Your support motivates me to keep sharing my photos.
My blog is registered to a ranking website, clicking this vote button regularly gives me votes and helps me get noticed. Please give it a click each time you come here. Arigatou!
人気ブログランキングに参加しています。
1日1回上記↑の『ブログランキング』ボタンを押していただけると、ランキングにポイントが入ります。
みなさまの応援がブログ更新の励みになっています。
いつも応援ありがとうございます。

Thanks and Enjoy!

Follow me on Facebook:
http://www.facebook.com/DamonBayPhotography
フェイスブックで「いいね!」をすると、新しくアップする写真や記事を見れます!