Exhibition Announcement -- 嬉しい知らせがあります!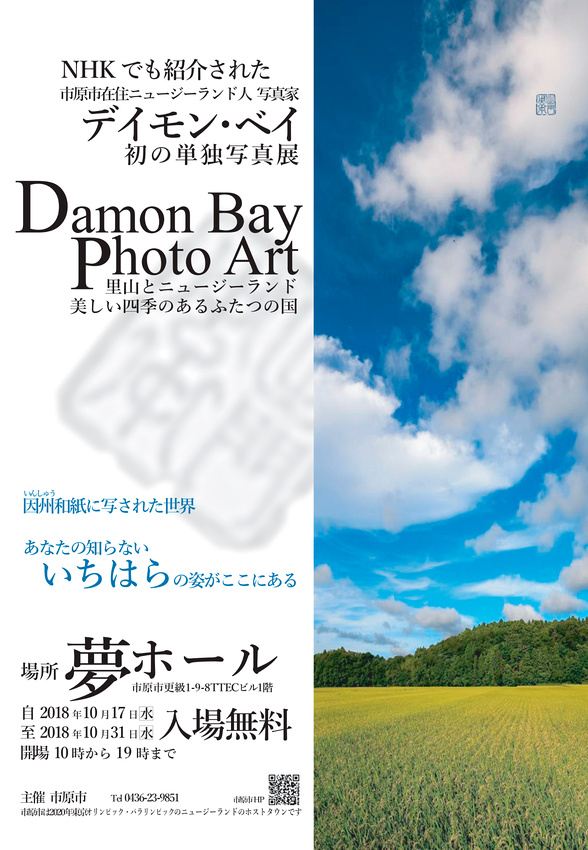 来月、10月17日(水)から31日(水)までの二週間、地元である千葉県の市原市にて、私の初めての個展が開催されます。
今回の写真展は、市原市からの依頼で実現することができました。
といいますのも、市原市は二年後に開催の迫っているオリンピックで、私の母国であるニュージーランドとの交流を推進するホストタウンなんです。
オリンピックの開催までに、みなさまにニュージーランドのことを知っていただくと同時に、身近すぎて気付きずらい市原市の魅力を再認識し
里山の美しさをより多くの方に知っていただくことが、この写真展の目的のひとつとなっています。
展示作品は因州和紙に、市原市とニュージーランドの風景や、フ ォト軸など様々な作品を印刷したもので
今までにわたしが撮りためた、大好きな地元市原市の里山風景を、このような素晴らしいかたちでみなさまにご紹介する機会をいただけてとても嬉しいです。
お声を掛けてくださった市原市の担当者のみなさまに、心から感謝しています。
開催期間中、お近くにお越しになることがありましたら、お立ち寄りください。
いつも応援していただき、本当にありがとうございます。
開催期間 平成30年10月17日(水)~10月31日(水)

観覧時間 10:00~19:00
会場  夢ホール(市原市更科1-9-8 T-TECビル1F) 入場無料
I'm pleased to announce that I'm having another exhibition next month!
This will be my first solo exhibition and even though it is still a
month away I am already excited (and nervous as hell!). It will be
held right here in my hometown of Ichihara, Chiba for two weeks
starting on October 17th.

Ichihara will be the New Zealand host city for the 2020 Tokyo
Olympics, so as part of that program, the city asked me to hold this
exhibition to teach people about New Zealand. The larger aim of the
exhibition is to showcase the local scenery of Ichihara, especially
the beautiful countryside areas which are less well known. I fell in
love with the countryside of Ichihara when I moved here in 2005, and
that is what inspired me to start taking photos, so I am thrilled to
be given this opportunity to show people how stunning Ichihara is. The
exhibition will be a mix of Ichihara and New Zealand photos, all
printed on Japanese Washi paper.

I know most of my English readers won't be able to see the exhibition,
but if you are in town do drop in, and once again I'd like to say
thank you for supporting me over the years.

Exhibition info:
Yume Hall (1st floor of the T-Tec building at the Ario shopping mall
in Ichihara)
From Oct 17th – 31st. Everyday from 10am-7pm
. Admission free.
Thank you everyone!

Your support motivates me to keep sharing my photos.
My blog is registered to a ranking website, clicking this vote button regularly gives me votes and helps me get noticed. Please give it a click each time you come here. Arigatou!
人気ブログランキングに参加しています。
1日1回上記↑の『ブログランキング』ボタンを押していただけると、ランキングにポイントが入ります。
みなさまの応援がブログ更新の励みになっています。
いつも応援ありがとうございます。

Thanks and Enjoy!

Follow me on Facebook:
http://www.facebook.com/DamonBayPhotography
フェイスブックで「いいね!」をすると、新しくアップする写真や記事を見れます!