前回は少しさみしいヒノキ林をご紹介しましたが、今日はにぎやかな林の写真をご紹介します。
これは杉林です。
杉林は明るくて、夏は湿気が多いので、
シダ植物などにとって、最適な環境です。

In contrast to my last post about cypress forests and how those trees block out all the light stopping anything from growing under them, here is a photo of a cedar forest plantation I took earlier this year. The forest floor is thick with green ferns and other plants, which flourish in the soft light that filters through the cedar canopy, and grow tall under the wind protection that the forest offers. Most of the plants that grow here are native, it's hard to believe that it is actually a man mad environment. It looks like it was meant to be.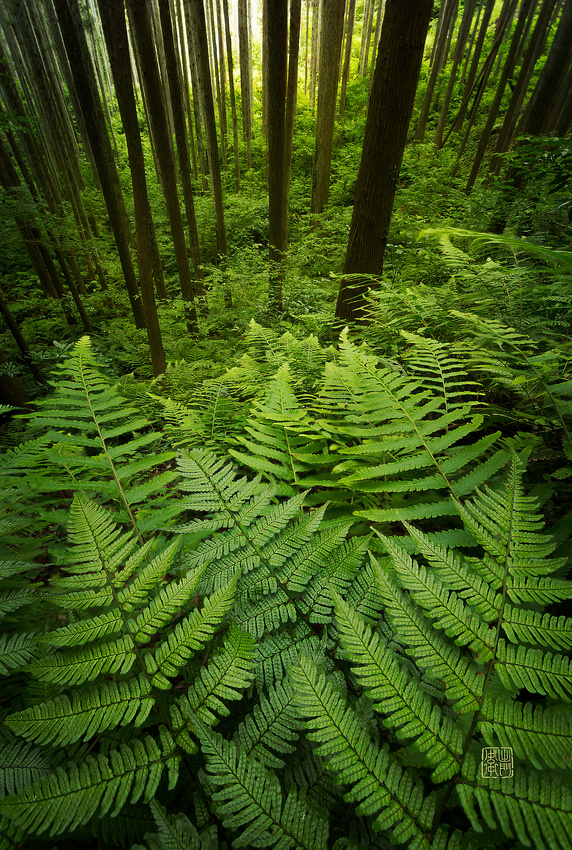 Your support motivates me to keep sharing my photos.
My blog is registered to a ranking website, clicking this vote button regularly gives me votes and helps me get noticed. Please give it a click each time you come here. Arigatou!
人気ブログランキングに参加しています。
1日1回上記↑の『ブログランキング』ボタンを押していただけると、ランキングにポイントが入ります。
みなさまの応援がブログ更新の励みになっています。
いつも応援ありがとうございます。

Thanks and Enjoy!

Follow me on Facebook:
http://www.facebook.com/DamonBayPhotography
フェイスブックで「いいね!」をすると、新しくアップする写真や記事を見れます!