今日も海のサンセットの風景をご紹介します。
数年前の夏、鳥取県の羽合町(はわい)で撮った写真です。
羽合町は、アメリカのハワイイと姉妹都市です。
この湾は真っ黒の丸い岩がたくさんあるため、歩くのが大変ですが、とても美しい海岸です。
Today I thought I would share another seascape.
This one is on a rocky coastline in Tottori a few years ago.
In summer the sea of Japan is calm and sunny. But in winter months the weather is harsh and the sea is rough. This photo was taken at the end of a quiet summer day.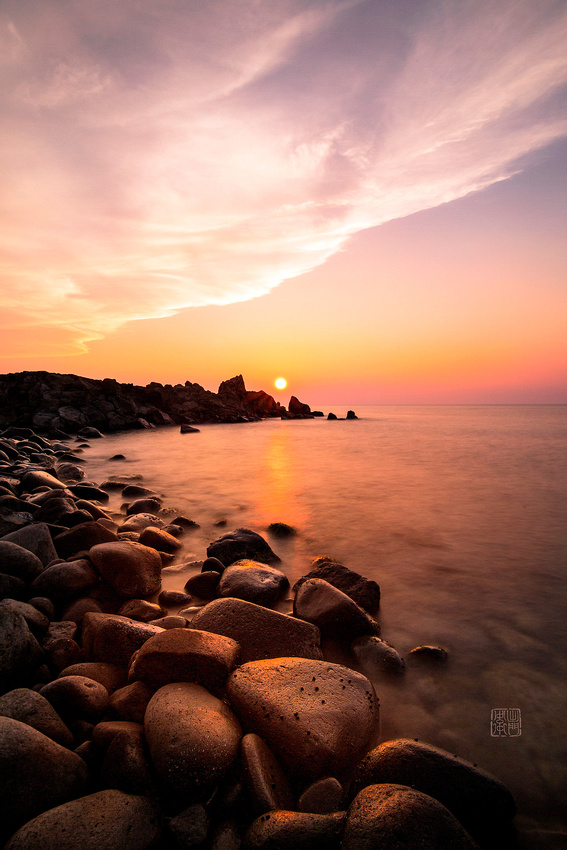 Your support motivates me to keep sharing my photos.
My blog is registered to a ranking website, clicking this vote button regularly gives me votes and helps me get noticed. Please give it a click each time you come here. Arigatou!
人気ブログランキングに参加しています。
1日1回上記↑の『ブログランキング』ボタンを押していただけると、ランキングにポイントが入ります。
みなさまの応援がブログ更新の励みになっています。
いつも応援ありがとうございます。

Thanks and Enjoy!

Follow me on Facebook:
http://www.facebook.com/DamonBayPhotography
フェイスブックで「いいね!」をすると、新しくアップする写真や記事を見れます!