明けましておめでとうございます!!
Happy New Year!!
I guess the best way to welcome the new year is to share my favourite image from 2013.
This one is called "Swans at Sunrise" and the more times I see it, the higher it climbs up my favourite images list. It's probably my favourite image for 2013. Ironically I took it on the 2nd day of the year. Should have quit while I was ahead!
It was a sub zero morning and the swans (Bewick's Tundra Swans, コハクチョウ in Japanese) were warming up in the early morning sunrise. I spent about 20 minutes on my knees on the cold river stones, slowly shuffling towards the swans. Just when I decided that I was in a good position this swan opened its wings up in front of me and flapped them a few times in slow motion.
今年はまだ写真を撮ってないけど、去年1番お気に入りの写真を紹介したいと思います。
2013年1月2日に撮った白鳥のパノラマ。
これはコハクチョウという種類は種類です。
Hope you like it as much as I do!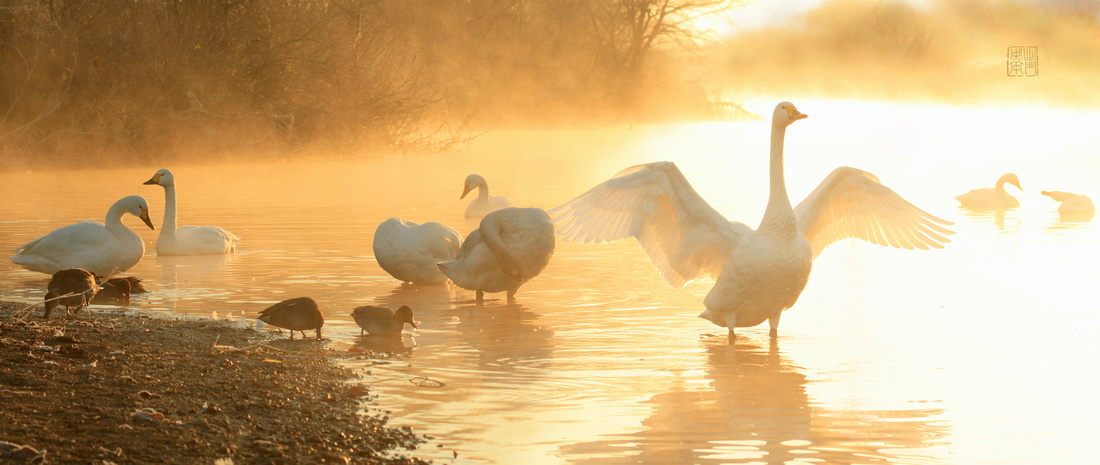 That was a super morning for bird photography. I also took these photos that day:
同じ朝に、他の鳥の写真も撮りました。
凍った草にとまったオオジュリン Reed Bunting on frosted reeds.
A Northern Pintail
オオナガガモ
いつも読んでくれてありがとうございます。今年もよろしくお願いいたします!
Thanks for following me in 2013, hoping that 2014 will be even better!
ブログランキングもやっています↓
Please help me out by clicking this blog vote button.

Thanks and Enjoy!
Damon
Follow me on Facebook:
http://www.facebook.com/DamonBayPhotography
フェイスブックで「いいね!」をしたら、新しくアップする写真や記事を見れるよ!