I made it out to the pacific coastline of Chiba peninsula on a cold but still morning before Christmas last year and took a few seascapes.
年末に千葉の房総半島の太平洋側の海岸に行きました。
寒い朝だったけど、風がなくて静かでした。
透き通っててきれいでした!
This is a spot I found last year that is fun for winter sunrise photography.
Between November and March the sun rises up from behind the sea, casting golden light in over the waves.
There's a large rock that sticks out of the water about 20 meters offshore, looking like a huge shark fin.
去年この場所を見つけたけど、家から車で45分前後で行けるのでとても便利です。
冬の間、朝日が登るとこの海岸が逆光になって、波が黄金色に染められ、風景写真に最高です。
湾の真ん中に巨大な岩があるから、私はこの場所を鮫岩と呼んでいる。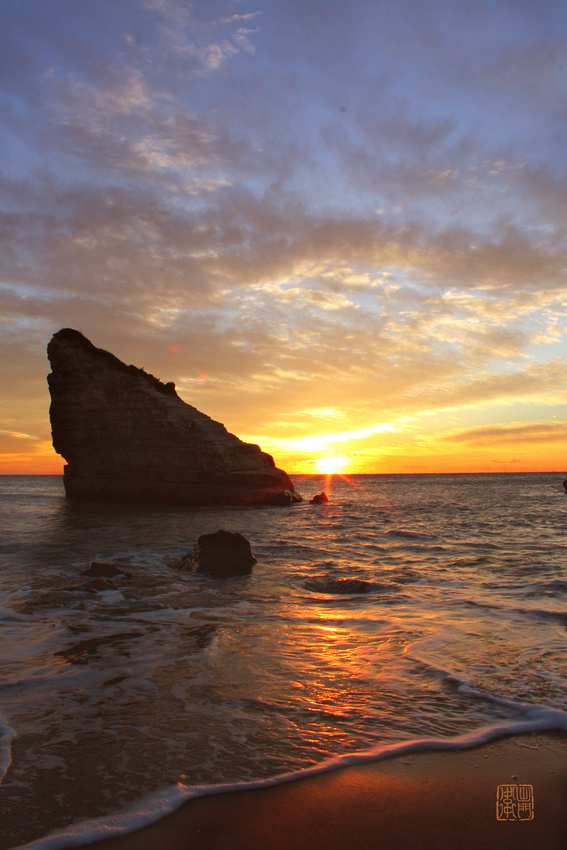 A few seconds after I took the top photo,
my morning seascape session came to an end when I was splashed by that same wave.
一番上の写真の数秒跡、その波にやられて、朝の撮影が終了になってしまった。
This was shark rock on a colourless foggy morning last year.
これも鮫岩、去年、霧が出ていた時。
And this next one is my favourite from that location.
This is from the top of the beach after a storm.
The rock in the centre where the wave is splashing is where I was standing when I took the above photos.
このロケーションの一番のお気に入りが次の一枚。
嵐の後、ビーチの上から見たアングルです。
この日は波が大きくて、いつもの岩まで行けなかった。
読んでくれてありがとうございます。ブログランキングもやっています↓
Please help me out by clicking this blog vote button.

Thanks and Enjoy!
Damon
Follow me on Facebook to see more of my photography:
フェイスブックで「いいね!」をしたら、新しくアップする写真や記事を見れるよ!