Like every one else around here at the moment, I am loving the autumn leaves.
This week they are in full colour in Chiba, and in the early mornings and evenings they look incredible!
But it's also a great time of year for observing some of nature's other wonderful autumn displays.
For me of course, birds are the highlight of the Japanese autumn. As the days get colder, the winter birds start arriving in bigger numbers, and after a long summer it is always exciting to see the thrushes, ducks and finches arriving back in large flocks, filling the forests and valleys with their calling and chattering.

A resident bulbul flies past a flock of newly arrived dusky thrushes at the top of large sweetgum tree.
Dusky thrushes are probably the most noticeable of winter birds because they arrive in one big wave, sometimes in flocks of several hundred. Tsugumi ツグミ in Japanese, they are still very shy when they first arrive, staying at the the tops of the trees, feeding on the fruits and seeds that are so abundant in Japan in autumn. Y
These fruit and seeds are one of the other highlights of autumn walks in the countryside. After the leaves have dropped from the trees, the berries suddenly appear, and make the dark short days of November and December much more colourful.

Hawks and falcons return in autumn too, and can often be seen chasing the other arriving birds. They have a very high hit rate in Autumn, the flocks of birds are easy pickings.
This photo is from a few years ago, a young peregrine falcon (Hayabusa ハヤブサ in Japanese) had just caught a pigeon over a ploughed rice field and let me get incredibly close in the gorgeous evening light.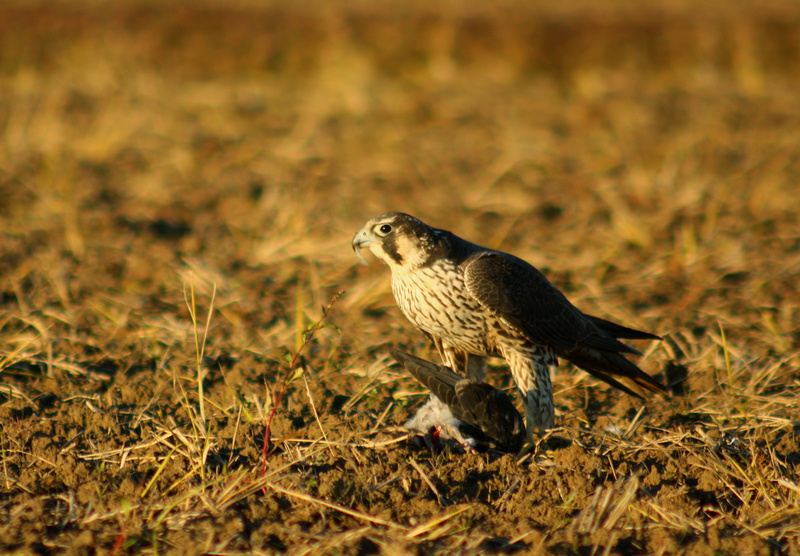 The autumn here is mild and there is so much to see both in the hills and in the valleys, I just wish the days were a bit longer so I had more time to enjoy it all.

My blog is registered to a ranking website, please click this vote button.
Kind of like "like" on facebook :)
いつも見てくれてありがとうございます。ご協力ありがとうございます↓



Thanks and Enjoy!

If you enjoyed this, follow me on facebook
Check out some of my other photography:
Mt Fuji here
The amazing Jewel Beetle here
Perfect rainbows here
Hilarious Frogs here
Follow me on Facebook:
http://www.facebook.com/DamonBayPhotography
フェイスブックで「いいね!」をしたら、新しくアップする写真や記事を見れるよ!