I've pretty much missed my opportunity to photograph the rice harvest season this year.
As you have probably gathered from my recent blog posts, I have been busy with other stuff and haven't had much time to get out in the field like I usually do.



I have been photographing the harvest season for 5 or 6 years now.
I enjoy watching the whole process, but I also want to document it for future generations because traditional Japanese rice farming is a dying art.
Most farmers are in their sixties or seventies, and young Japanese aren't interested in farming.



Harvest season is usually a bit of a mad rush for me.
Between work and weather, I usually try and get out into the rice fields as much as I can and photograph the local farmers doing the annual harvest.
Farmers also have to work around the weather, and so it always seem to turn turn out that the rice paddies that I want to photograph are all being harvested on the same days!
The harvest season has pretty much finished here now in Chiba this year.
But the last few weeks have brought a lot of rainy days, meaning that not all farmers have finished.
So I am hoping I will be be able to find some places this weekend that are being harvested.


If not, then I will have to wait again till next year I guess.
Fingers crossed.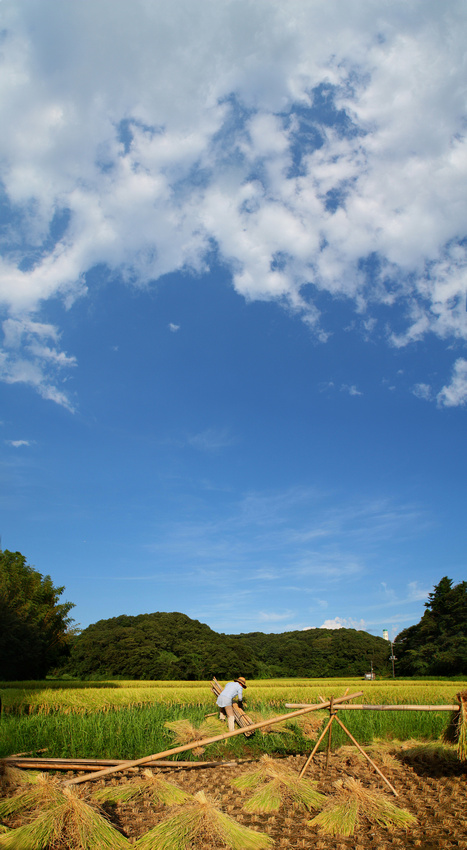 If you enjoyed this, follow me on facebook
Check out some of my other photography:
Mt Fuji here
The amazing Jewel Beetle here
Perfect rainbows here
Hilarious Frogs here
Follow me on Facebook:
http://www.facebook.com/DamonBayPhotography
フェイスブックで「いいね!」をしたら、新しくアップする写真や記事を見れるよ!
Please help me out by clicking this blog vote button.
いつも見てくれてありがとうございます。ブログランキングもやっています↓