I've been trying for a while now to get a nice panorama photo of the Aqua Line Bridge in Tokyo bay with Mount Fuji in the background. I know the perfect place to get it, but I haven't had much luck with the sunsets.
Last Thursday after work the conditions looked good for a spectacular sunset, so I headed down to the bay to try my luck. A few minutes before sunset some dark clouds rolled in though, and by the time the sky turned red there was only a thin line of the western sky showing.
Mt Fuji, which was visible a few minutes earlier, was blocked out by clouds.
A shame, because it was an interesting sunset.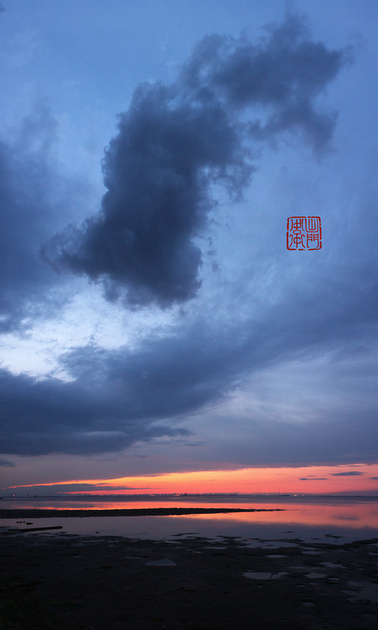 I hung around for a while after the sun went down and played around with angles,
hoping that one day I will get this panorama with Mt Fuji standing tall over the water on the left hand side.
Tokyo bay is not a very pretty place.
The water is very still and the bay is always busy with boats and planes, but I still find it fascinating. At first glance there isn't much life, but when you take a bit of time to learn what to look for, you soon realise that Tokyo bay is an incredibly rich environment.
It's a great place for bird watching, especially in the Spring and Autumn.
Autumn migrating birds, with Tokyo Sky Tree in the background.
The other side of Chiba peninsula is much more scenic though, I wish it was as close to my workplace as Tokyo Bay!
I did pop over there a few weeks ago to see the sunrise. Here's the panorama from that morning.

The sun rays stayed like this for a good half an hour,
so I even had time to take a short video.


Thanks and Enjoy!

If you enjoyed this, follow me on facebook
Check out some of my other photography:
Mt Fuji here
The amazing Jewel Beetle here
Perfect rainbows here
Hilarious Frogs here
Follow me on Facebook:
http://www.facebook.com/DamonBayPhotography
フェイスブックで「いいね!」をしたら、新しくアップする写真や記事を見れるよ!
Please help me out by clicking this blog vote button.
いつも見てくれてありがとうございます。ブログランキングもやっています↓